June 3, 2009
Thanks for a more detailed article translated and posted by Joanne
BYJ quilt/ news #1973 - June 2'09
Kwon Ohkyeong posted this on the Talk Box of BYJ's official home.
[Chosun Daily] BYJ, became Honorary Director

of the world's largest Lacquer Museum
6/1/09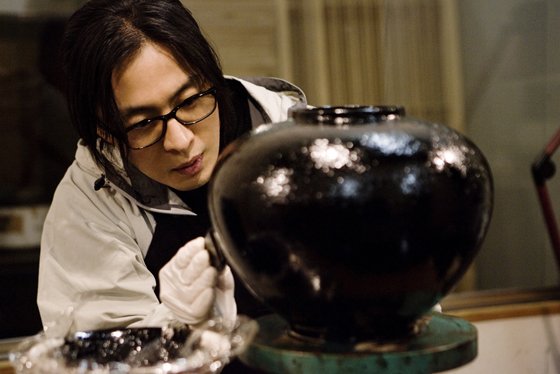 ▲/Provided by Iwayama Lacquer Arts Museum
A young actor's walk is splendid. Although we thought that he was just handsome, and became famous because he got one good cast, his activity went over self satisfaction and became an international cultural icon ever since. We are talking about BYJ.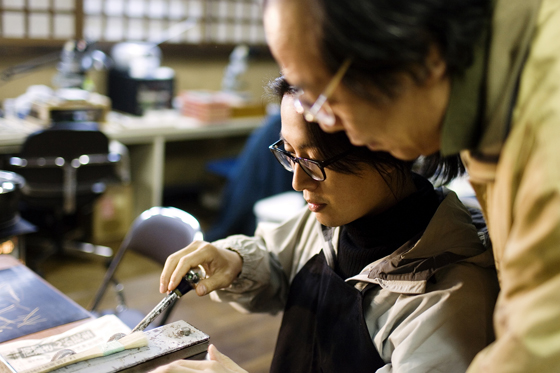 ▲/Provided by Iwayama Lacquer Arts Museum
Hallyu Star BYJ will be inaugurated as Honorary Director at the Art Museum of Mr. Jeon Yongbok, the world renowned lacquer artist who is working actively in Japan. This is in 4 month since (BYJ) secretly studied lacquer art at the Iwayama Laquer Art Museum at Morioka City, Iwate prefecture, Japan, where Mr. Jeon Yongbok is, in last February.
On a telephone conversation on the first (of June), Director Jeon Yongbok told, "I met (BYJ) in the last year because BYJ said that he wanted to write a book about the lacquer (art), and that became a connection that continued to became the Honorary Director." Is we gather what he said, following is the story.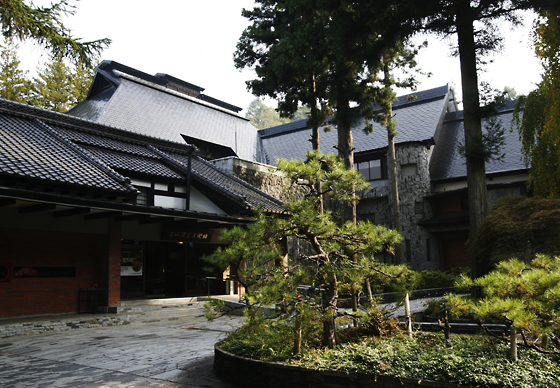 ▲Iwayama Lacquer Art Museum located in Morioka, Iwate Prefecture in Japan/by reporter Park Jongin
BYJ is currently writing a book titled 'Korea's Beauty'. It is a book about lives and their esthetics of 3 artisans, symbols of Korean beauty, including Director Jeon Yongbok, artisan in lacquer art. It was November in the last year when (BYJ) met Director Jeon to write that book. Director Jeon (told) "When I dropped by Seoul, I met (BYJ) for the first time as BYJ contacted me," and "he told he wanted to learn (lacquer art) properly, once he formed a connection (with me)." (Director Jeon said that BYJ) wanted to become a bridge for cultural exchange between Korea and Japan, not a successful young actor.
Director is a person who, after being looked down upon as 'lacquer 쟁이*(*a lowly calling name for artists/workers in ancient Korea where artists/some professions were low in social status) in Korea, when he was young, went over to Japan to become prominent as a world renowned lacquer artisan. After having been denounced actually in Korea as "Japanese style lacquer art", he gets proper recognition most recently. Thoughts of (Director Jeon & BYJ) came through.
At Director Jeon's bluff, "You will have a hard time if you became allergic to lacquer (poison ivy). Are you all right desite that?", BYJ answered. "I do not need pair of gloves, and I do not need celebrity treatment*, (*유명세 is literally due one has to pay because one is famous) , and I will learn (the lacquer art) properly under teacher (Director Jeon)." So that, after changing the year, in the past February, BYJ flew to Morioka.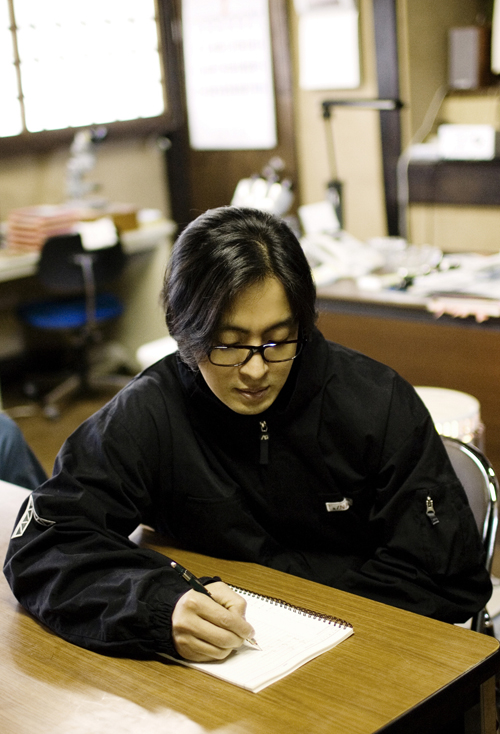 ▲/Provided by Iwayama Lacquer Arts Museum
Who is BYJ? To an extent that Narita Airport asks favor from him (by saying) "Can you please enter (Japan) via Kansai, not the Narita?" , he is a celebrity creating commotion once he shows up. Director Jeon told, "As we asked the nearest Sendai Airport, we became successful in hiding his entry (to Japan) itself."
The Iwayama Museum, that appears after going up in a road lined with cedar trees, from downtown to a base of mountain, is closed in February. BYJ took a lodging in a section of imposing 400 year old wooden building, and learned lacquer art from Director Jeon for one week. he learned to varnish the lacquer on pots, and way to draw pictures with lacquer on wood.
As promised, he learned the lacquer (art) without wearing gloves that would prevent from getting allergy from lacquer. Beginning the days by paying due courtesy to Director Jeon by bending his knees, (BYJ) finished total of 12 works during one week. There were works in theme of sea, and also works in theme of village.
Director evaluated (BYJ) as "a talented perfectionist". There were no works taking (helping) hands from teacher. Director Jeon told that "When I visited (his place) in the morning after finishing (my) work in late in night, there would be finished works (by BYJ)," and "I heard that he worked until 5 Am without sleeping."
On the day when the lecture ended, BYJ told Director Jeon. "I will make lacquer brush for you teacher, by cutting my hair." They say the human hair is the best (for making) brushes used in varnishing lacquer. BYJ told, "Since I learned 2 of techniques, I will finished it up by learning remaining 298 techniques from time to time."
In the city of Morioka, there is an elderly woman, who had learned to draw portrait just to draw BYJ as she was fascinated with 'Yon-sama'. When BYJ told Director Jeon to go meet her, upon hearing this story, Hyeonmin, Director Jeon's son, told. "Dad, if he does that, that old lady will die, of heart attack." Hyeonmin told that "I went to the city together (with BYJ), no one knew that Yon-sama was there next to themselves."
After belatedly realizing Yon-sama's honorable visit, there was a commotion in Morioka. Fans flocked in form Tokyo, distanced far away taking 3 hours via Sinkansen, and doggedly persisted to open the closed Art Museum. This is an episode told by Director Jeon. "There was an elderly woman standing recklessly outside the closed door. When (Director Jeon) showed her (the Museum) separately because of that, she told that she had congenital arthritic pain, which was cured all after she knew of Yon-sama." After several days, (Director Jeon) gave a letter, senf from this person, to BYJ when visiting Seoul, and BYJ sent autographed picture of self (to this person) through Director Jeon.
In BYJ, home in Seoul, there equipped a lacquer drier. It is the drier Director Jeon delivered by air for his disciple. One wall is packed with books, comparable to those of pretty good writers. A staff of the Key East, BYJ's agency, told, "It is to an extent to cancel his schedule to write books and study the lacquer art."
City of Morioka began work to revise and repair the Art Museum that was visited by 'yon-sama'. They decided to place facility for the disabled for people who has physical difficulties, and decided to support management expenses. On the very day that an article was published regarding Yon-sama's honorable visit. over 1500 people all over the nation of Japan called on the phone to open the Art Museum that was closed. Director Jeon told, "Although I was known as Yon-sama in Morioka, that nickname became veiled due to BYJ."
When BYJ assumes the Honorary Director, BYJ would go to Morioka at irregular intervals and appear his appearance along with Director Jeon. They plan to exhibit his works regularly in the Art Museum. BYJ told that " I will serve Teacher Jeon, who is propagating beauty of Korea, like my manager."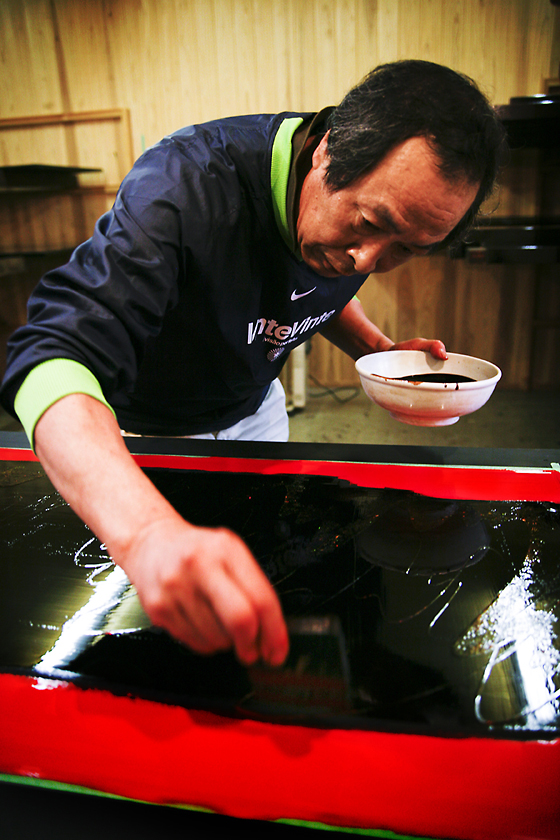 ▲Director Jeon/ Photo by reporter Park Jongin
There scheduled joint exhibition by teacher Director Jeon Yongbok and disciple BYJ on coming 9. Although they planned a concert by Japanese group Sensatin and exhibition of works by two people in the Iwate Prefecture Stadium, it was postponed due to political situation in Korea coupled with adverse condition of new type of influenza in Japan.
Copyright (c) Chosun Daily & Chosun.com